Hosted by the UF Senior Vice President and Chief Operating Officer Charlie Lane and Senior Director of Training & Organizational Development Bob Parks, the 2022 Superior Accomplishment Awards ceremony took place on Wednesday, April 13, in the Reitz Union Grand Ballroom.
This annual program recognizes staff and faculty members who contribute outstanding and meritorious service, efficiency and/or economy, or to the quality of life for students and employees. Recognition by one's peers is the highest point of achievement.
University-Level Award Winners
The following individuals received the Superior Accomplishment Awards' highest honors and were awarded with a $2,000 check:
Special Recognition Award Winners
The following individuals received the Special Recognition Award. These employees were each presented with a $1,000 check: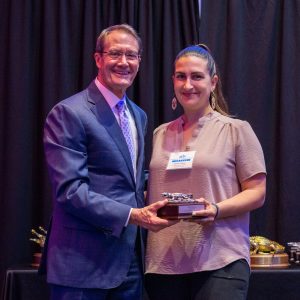 Please join us in congratulating those who were recognized in this prestigious ceremony. Below are pictures from the event.