Gator Business Administrator Services (GBAS)
Gator Business Administrator Services (GBAS)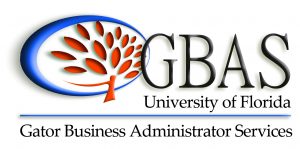 The Office of the Senior Vice President and Chief Financial Officer in partnership with the Vice President of Human Resources is proud to sponsor Gator Business Administrator Services (GBAS).
GBAS is a professional development program designed to help business administrators working in colleges, departments and units be more effective in their jobs. This professional support focuses on the job skills and expertise of employees in the areas of finance, research administration (both pre- and post-award), reporting and human resources.
To keep up-to-date with GBAS news and events, email shannon.powell@ufl.edu to be added to the GBAS listserv.
Upcoming Events
More information is forthcoming.
---
Program Components
The GBAS professional learning program consists of multiple components designed to support business administrators (BAs) with varying skill levels. These components cultivate:
Increased knowledge and application of recommended business practices
In-depth application of fiscal, HR and other administrative policies to support the institution
Professional support processes for college- and department-level BAs
Opportunities to enhance professionalism and interpersonal skills
Collaborative problem-solving to improve and increase the consistency of business management practices and stewardship of UF funds
The GBAS components include an online orientation for new BAs, competency-based foundation courses (Pro3 Series), GBAS institutes and workshops, a mentoring program and certification.
To register for the online orientation for new BAs, Pro3 Series, or GBAS institutes or workshops, visit myTraining.
You can find more details about each of these components in the links below:
For more GBAS information, contact Shannon Powell at shannon.powell@ufl.edu.
---
The GBAS Story
View a video about how GBAS created a professional development path for a business administrator's success at the University of Florida.
GBAS History
GBAS began in 2010 as a partnership between the Office of the CFO, UFHR Training and Organizational Development (T&OD), and dedicated business administrators across UF.
Terry Moore serves as the GBAS director. Terry is Director of Research Administration, IFAS. She holds an MBA from Troy University and Bachelor of Science from Georgia Southern University, and has been at UF since 2007. She provides management of the administrative functions for fiscal/finance, research administration, and HR in the Department of Electrical and Computer Engineering. She is also a copy editor for National Council of University Research Administrators (NCURA) Magazine and a Certified Research Administrator (CRA).
Shannon Powell of UFHR T&OD serves as GBAS training manager.
Mission
GBAS works in partnership with the academic and administrative management of the University of Florida to recruit, develop and sustain a network of top-quality business professionals who provide efficient and effective financial and administrative services and solutions, focused on unit-level needs and university-wide objectives.
"The GBAS program has grown and surpassed my original vision, due in large part to the partnership between my office, UFHR's T&OD team and the Advisory Council."      
— Mike McKee
Advisory Council
GBAS has a network of dedicated business professionals from across campus who serve as advisors to ensure the program stays true to its mission.
Current GBAS Advisory Council members
Aigi Adesogan, Assistant Vice President, Enrollment Management
Denise Bogart, Director of Human Resources, IFAS
Gwynn Cadwallader, Assistant Director of Training and Organizational Development at UF
Carolyn LeBron, Director of Human Resources, College of Liberal Arts and Sciences
Lyz Lynch, Director, Shared Service Center, CLAS
Rosabel Ruiz, Administrative Services Coordinator, College of Education
Matthew Walters, Assistant Director, Administrative Services Herbert Wertheim College of Engineering
Alicia Wood, Associate Director of Finance, Department of Medicine
Past council members and directors
Andrea Burne, College of Public Health and Health Professions
Bonnie Cauthon, UFIT
Cynthia Brochu, Business Manager Health Science Center
Jamie Dale, Assistant Director of Finance, College of Engineering,
JoAnn Davis, IFAS Shared Services Centers
Donna Del Buco, Division of Student Affairs
Todd Fraser, College of Nursing
Keith Gouin, Director of Finance, IFAS Extension
Nicola Heredia, Assistant Director, Procurement Services
Brian Keith, George A. Smathers Libraries
Crystal Lee, College of Design, Construction and Planning
Mary Anne Morgan, IFAS
Tracy Phillips, College of Health and Human Performance
Jeff Pole, Director of Finance, Journalism and Communication
Dorothea Roebuck, College of Health and Human Performance
Kim Rovansek, College of Public Health and Health Professions, Assistant Director of Finance
Deb Staats, GBAS Director, 2012–2015
Meena Thiyagarajah, College of Engineering
Kathy Thrasher, College of Medicine