Fiscal Management Competencies
Fiscal Management Competencies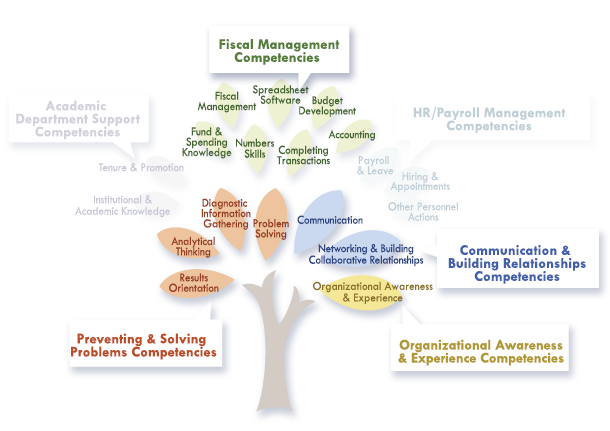 Fiscal Management
The competencies described on this page represent the knowledge, skills, and abilities required for effective fiscal management at the University of Florida.
These key skills were identified primarily on the basis of a series of focus groups and interviews with employees in administrative positions who were identified as solid performers in those positions. The competencies represent the range of skills that became apparent as those successful in the positions described their work and how they fulfilled the positions' demands.
These fiscal competencies are complemented by the personal excellence competencies—core skills such as communication and results orientation that are essential for all administrative professionals.
 Accounting—understands basic accounting principles as a foundation for managing financial activities in their work unit.
Can apply basic accounting principles such as debit, credit, accounts payable, and accounts receivable.
Budget development—serves as resource for budget development, working in conjunction with higher-level administrators in their work unit (chair, dean, director, etc.).
Understands how UF budget is managed.
Understands and can apply related myUFL system requirements, including chartfields, ledger groups, etc.
Can forecast or project budget requirements (personnel, other) using Enterprise Reporting and Query Studio, and other tools as necessary.
Fund and spending knowledge—understands and can apply guidelines and restrictions associated with available funding, including grants, state appropriations, foundation, and overhead accounts.
Knows and can explain guidelines and restrictions for various funding sources; advises chair, faculty, and staff on appropriate use of funds, including Contracts and Grants guidelines (for specific grants, as well as, guidelines associated with OMB Circular A-21).
Spends from appropriate sources in accordance with guidelines and restrictions.
Identifies and corrects mistakes or discrepancies in use of funds.
Completing transactions—can complete financial transactions in the myUFL subsystems of purchasing, travel/expense, accounts payable, and accounts receivable in keeping with UF policies and procedures.
Can purchase and pay for items and services using PeopleSoft, including PCard transactions.
Can deposit funds as needed.
Can complete travel and expense transactions for themselves and others in PeopleSoft.
Safeguards department assets by using the appropriate UF subsystem. Has basic understanding of appropriate internal controls necessary, as well as, appropriate security roles that should be assigned.
Fiscal management—develops and maintains internal controls in the oversight of the budget, to include reconciliation; able to troubleshoot and work to solve problems that may emerge or be identified; able to facilitate audits.
Understands and can reconcile department ledgers in keeping with UF business requirements and best practices.
Understands key control concepts and application of these to key business processes.
Uses available tools and can create own tools (excel spreadsheets, etc.) as necessary to reconcile accounts and to do budgetary projections and analysis.
Able to facilitate audit, knowing whom to contact in the event auditors show up.
Spreadsheet software—can use Excel (or other spreadsheet software) as a tool for budget management with a high degree of proficiency.and manipulates spreadsheets, invoices, databases, and other tools using Excel (or other spreadsheet software).
Creates and manipulates spreadsheets, invoices, databases, and other tools using Excel (or other spreadsheet software).
Numbers skills—Possesses a skill and comfort with numbers.
Works quickly and comfortably with numbers. "The numbers speak to me."
To see the requirements for the certification, view the Quick and Easy Guide to the Pro3 Series.