RAFT — Research Administration & Financials Training
RAFT — Research Administration & Financials Training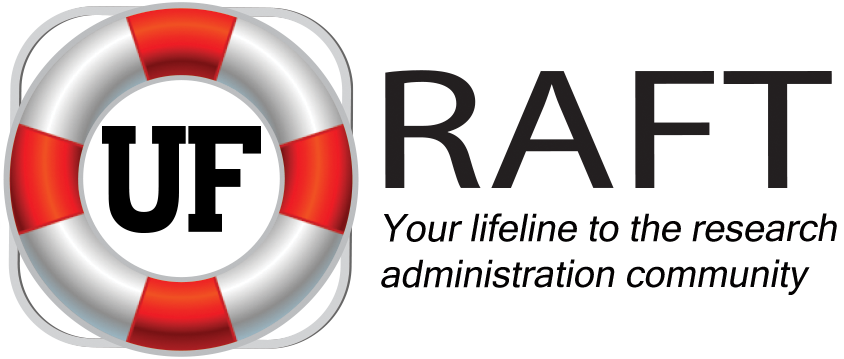 The Division of Sponsored Programs and Contracts & Grants offer a variety of training and professional development opportunities that provide research administrators throughout the university with "a lifeline" to the research community.
RAFT Foundations Cohort
The UF Research Administration and Financials Training (RAFT) Foundations Cohort is intended for employees with 12 months or fewer of sponsored programs management experience. The cohort is a multi-session series that introduces all aspects of sponsored programs management at UF. In addition, the RAFT Foundations Cohort seeks to foster peer relationships within the research support community. Each cohort is limited to a minimum number of participants to ensure networking and relationship building. Participants who successfully complete the series receive a certificate of completion.
The Fall 2023 cohort application window is now closed.
RAFT Training Classes
RAFT training classes help to grow the skills of research administrators and other staff who support sponsored research and extension at UF. The series features classes covering a range of topics across sponsored programs management. Enrollment is now available in the myTraining system.
To view class listings, please refer to the Sponsored Programs course catalog.
MAINSPRING SEMINARS/WORKSHOPS
MainSpring events are designed to create a bridge between the core offices and the UF research support community. These sessions cover special topics of interest, while also providing an open channel for solutions, contacts, and information targeted to the needs of UF sponsored programs. If you are not able to attend live, view the event using link just below.
Previous Meetings
| | | | | | | |
| --- | --- | --- | --- | --- | --- | --- |
| Date | Topic | Location | Time | View | PPT | Resources |
| 2/15/2022 | Inviting and Hosting International Visitors and Scholars | | | | | Link |
| 5/27/2021 | Excel Tips & Tricks for Researchers – Part 4 | | | Watch online | | ZIP |
| 5/22/2021 | Sponsoring Foreign Nationals | | | | | Link 1 |
| 4/22/2021 | Employing & Hiring Abroad – the Do's and Don'ts | | | | | Link 1 |
| 3/1/2021 | Excel Tips & Tricks for Researchers – Part 3 | | | Watch online | | ZIP |
| 12/10/2020 | Excel Tips & Tricks for Researchers – Part 2 | | | Watch online | | ZIP |
| 9/24/2020 | Excel Tips & Tricks for Researchers | | | Watch online | | ZIP |
| 8/25/2020 | NSF Research.gov and Biosketch/Current & Pending Forms Changes | | | | | Link 1 |
| 6/11/2019 | Outside Activities & Financial Interests in Sponsored Programs | Communicore C1-11 | 2:30–4:30 p.m. | | PPT | Link |
| 11/5/2018 | Clinical Research & HSP | Communicore C1-11 | 2–4 p.m. | Watch online | | |
| 10/12/2018 | Information Security | McKnight Brain Institute | 2:30–4:30 p.m. | Watch online | | |
| 11/28/2017 | Faculty Life | HRS 120 | 2:30–4:30 p.m. | Watch online | | |
| 8/31/2017 | Intellectual Property 101 | HRS 120 | 3–4:30 p.m. | Watch online | | |
| 7/24/2017 | Research Terms & Conditions | HRS 120 | 10 a.m.–noon | Watch online | | |
| 5/2/2017 | Effort | HRS 120 | 3–4:30 p.m. | Watch online | | |
| 4/14/2017 | UFIRST Awards | HRS 120 | 2:30–4:30 p.m. | Watch online | | |
| 11/30/2016 | Export Controls | HPNP G-114 | 3–4:30 p.m. | | | Link |
| 10/12/2016 | Effort | HPNP G-114 | 3–4:30 p.m. | Watch online | | |
| 9/7/2016 | Hiring and Paying Fellows | HPNP G-114 | 3–4:30 p.m. | Watch online | PPT | |
| 4/19/2016 | IRB / IACUC | HPNP G-114 | 3–4:30 p.m. | Watch online | PPT | |
| 3/29/2016 | Reporting | HPNP G-114 | 3–4:30 p.m. | Watch online | PPT | |
| 2/12/2016 | Cost Sharing | HPNP G-114 | 3–4:30 p.m. | Watch online | PPT | |