Stronger Together: Promoting Racial Justice through Awareness and Action
Stronger Together: Promoting Racial Justice through Awareness and Action
Stronger Together is a series within the Gators Together diversity and inclusion certificate program.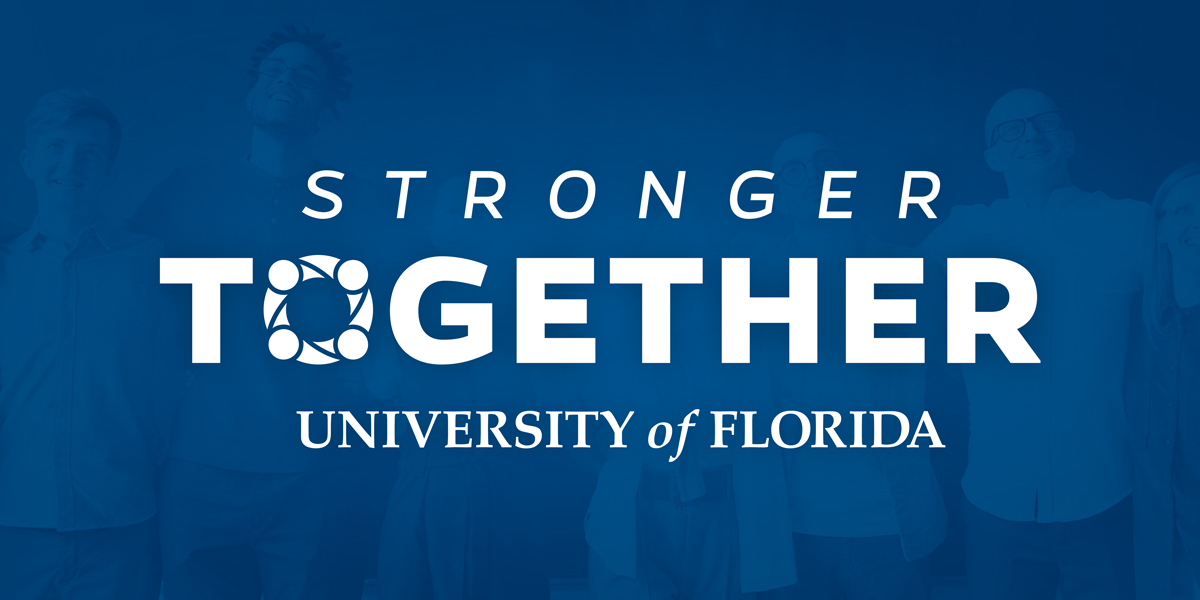 In his June 2020 memo, President Fuchs identified a number of steps UF would be taking to address racism and create a more racially just UF. Training for all faculty and staff was among these. UFHR, along with the offices of the Chief Diversity Officer and Student Affairs, invited "100 UF voices" from across campus to a half-day online retreat to identify the knowledge and skills required to build a more racially just UF. Participants in this retreat helped identify three broad areas of focus for learning:
Fostering Awareness: Understanding anti-black racism
Building Capacity: Knowledge and skills to engage in difficult conversations on race
Promoting Action: Effecting personal and institutional change
Stronger Together
UF Training & Organizational Development will implement a Racial Justice Education initiative called Stronger Together beginning February 2021.
What is our goal?
Stronger Together will provide UF faculty and staff with a series of educational offerings to help them better understand and address racism and bias and help promote racial justice at the individual, institutional, and systemic levels. The context of fostering awareness, building capacity, and promoting action will weave throughout the offerings. This series will help UF move forward in efforts to combat anti-black racism and to promote a more diverse and inclusive campus.

What types of training and resources will be available?
UF's racial justice education initiative will include a broad range of efforts and collaborations across campus including online courses, webinars, interviews, panel discussions, and a leadership series. The session information and resources will be communicated through UF At Work and made available on the Stronger Together website. The sessions will begin in February and continue into the fall of 2021.
---
Webinar Series for Faculty and Staff
This series will include 60-90 minute webinars, interviews, and panel discussions that aim to foster awareness, build capacity, and promote action.
Sessions will be added on an ongoing basis, please check back regularly for new sessions and myTraining registration links.
---
Webinar Series for Leaders
UFHR's Training and Organizational Development team is committed to providing leadership resources that build skills to facilitate important conversations about race, bias and prejudice in order to remove barriers that obstruct equity.  Leaders set the standards for behaviors – they decide what gets endorsed, accepted, supported, overlooked, and rewarded. Inclusion does, or doesn't, happen in thousands of moments each day. Leaders must remain vigilant of all the ways they enable inequity to persist unchallenged on their teams and take action.
Leadership Conversations
This will be a 3-part webinar series focusing on how leaders can build their individual capacity to guide and influence change toward a more equitable workplace culture.
Leading with Intercultural Competence for Inclusion and Belonging with Paloma Rodriguez
October 25 from 1 – 2:30 p.m.
---
Interactive Events
The Racial Healing Handbook Book Club
Tuesdays, January 11th to March 15th at 12pm
Join Training & Organizational Development in a guided book club reading of The Racial Healing Handbook by Anneliese A. Singh, PhD LPC. The Racial Healing Handbook is a unique book that aims to take you on a journey of healing from racism. Through weekly readings and introspective questions, the handbook will lead you towards racial liberation and resilience. As a group, we will discuss what the book is teaching us and engage in critical conversations around racial healing.
---
More Resources
There are many organizations on campus doing work in Diversity, Equity, & Inclusion. Here is a selection of additional, curated resources from across campus.