EEP helps UF build a skilled workforce – Alex Avelino's journey to a master's degree also benefitted the College of Veterinary Medicine
This is our final spotlight in our series on how the Employee Education Program, or EEP, has benefitted UF employees. Read our previous spotlights on EEP participants Brandon Telg and Abel Gilbert. You can also learn more about the EEP and the benefits it offers UF employees here. 
_____________________________________________
Working professionals often face an uphill battle at work when they decide to pursue a post-secondary education while working full-time. However, employers that provide educational opportunities to their employees reap the benefits through increased retention rates and a more skilled workforce. UF's College of Veterinary Medicine, for example, encouraged Student Affairs Program Coordinator Alex Avelino to pursue her master's degree through the Employee Education Program, or EEP. In doing so, they benefitted from Avelino's new skills as she worked to strengthen the college's recruitment strategy.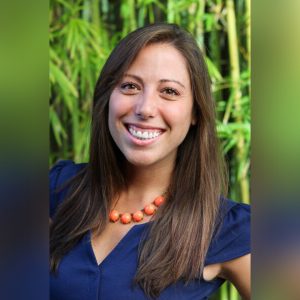 Alex Avelino joined the College of Veterinary Medicine in 2015 as a pre-vet advisor. While the bulk of her role involved advising prospective vet med students, Avelino sought to do more with her career. This drive was encouraged by former Executive Associate Dean, Dr. Tom Vickroy, who asked Avelino where she saw herself in five years.
"I remember saying, 'if I'm going to stay at the College of Vet Med, the only job that interests me is the Director of Communications,'" recalls Avelino. "So, I went and interviewed some folks who had the same position, and every single person had a master's in mass communications. And then I met with my now communications mentor, Dr. Ruth Borger, who was formerly the Assistant VP of IFAS Communications, and she said I should look into getting a masters."
Originally, Avelino was not interested in pursuing a master's degree. And while the interviews motivated her to search for a program, it was the EEP that gave her the final push to apply for admission.
"If I had to pay for it myself, I never would have done it," stated Avelino. "That was probably the biggest factor – it was not even an option without the EEP."
In 2017, Avelino started her master's degree in mass communications through the UF College of Journalism and Communications' Professional Master's program. As part of her degree, she focused on storytelling, content marketing, and diversity, inclusion and equity.
Throughout her degree, Avelino used the skills she learned to improve her recruitment practices by increasing prospective student outreach. In her works, she incorporated several aspects of storytelling through online tools such as social media, eBooks and brochures.
Avelino's supervisor, Interim Associate Dean of Academic and Student Affairs at the College of Veterinary Medicine, Amanda M. House, DVM, DACVIM, praised Avelino's work at the college.
"Alex has brought tremendous value to pre-veterinary advising, the office of academic and student affairs, and the College of Veterinary Medicine through her work in the strategic communications master's program."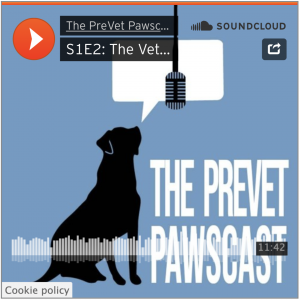 In February 2019, Avelino took her student outreach and engagement to a new level when she created a podcast called The PreVet Pawscast. Episodes feature guests such as veterinarians, financial aid experts and current vet med students, who tackle topics from their journey through vet school to admissions and financial aid tips. In total, the podcast boasts three seasons with 60 episodes and one audiobook.
But the more she worked in recruiting, the more Avelino noticed that minority students were not represented in the veterinary medicine field.
"Veterinary medicine is known within the community of health professions as the whitest of all the health care professions," said Avelino. "The current demographic of vet students is twenty-something, white, straight female. The profession as a whole recognizes that's an issue because we serve clients from all different backgrounds."
To attract more underrepresented students, and as part of her capstone project, Avelino created the website Underrepresented No More. The website hosts several resources, including infographics on diversity within the vet med profession, student testimonials and advice from current veterinarians. A constant feature throughout the website is the diversity of voices, which helps all prospective students see themselves reflected within veterinary medicine.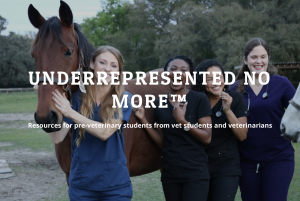 As far as the impact the website had on the vet med recruitment field, Avelino stated:
"The College of Vet Med trademarked the name Underrepresented No More. Also, the AAVMC — which is the American Association of Veterinary Medical Colleges — wants to get involved and start looking into the site, because they want to increase the diversity of the profession. There are a bunch of organizations that are getting involved with the project."
Similarly, House views Avelino's work on the website and the college as important in advancing its programs.
"Alex has taken the lead on several communication initiatives that benefit the professional program and our student applicants. She has helped create a strategic communications plan for our office and has highlighted the critical importance of diversity in the field of veterinary medicine with her Underrepresented No More website."
Avelino defended her master's degree in May 2020 and graduated in August. She credits the EEP for the opportunity to pursue her master's degree. And while it wasn't always easy, she is grateful for the support she received from her team.
"In the beginning, it wasn't always a smooth transition at work," recalls Avelino. "There was some confusion about why my hours changed when I started going to class. So, I had to navigate those waters, which was hard. But I think now, seeing all the stuff I was able to do because of my degree, they realize how helpful it was for the college."
As for the EEP, Avelino hopes more UF employees use the program to further their careers.
"I think it's a huge benefit and a lot more people would take advantage of it if their supervisors supported it," said Avelino. "I would encourage anyone who is thinking about getting a degree to look into the EEP. And if they have the support of their supervisor, they should do it. I would just hate for someone working at UF a year, or two or three from now, to look back and think, 'I could've gotten a degree by now.'"