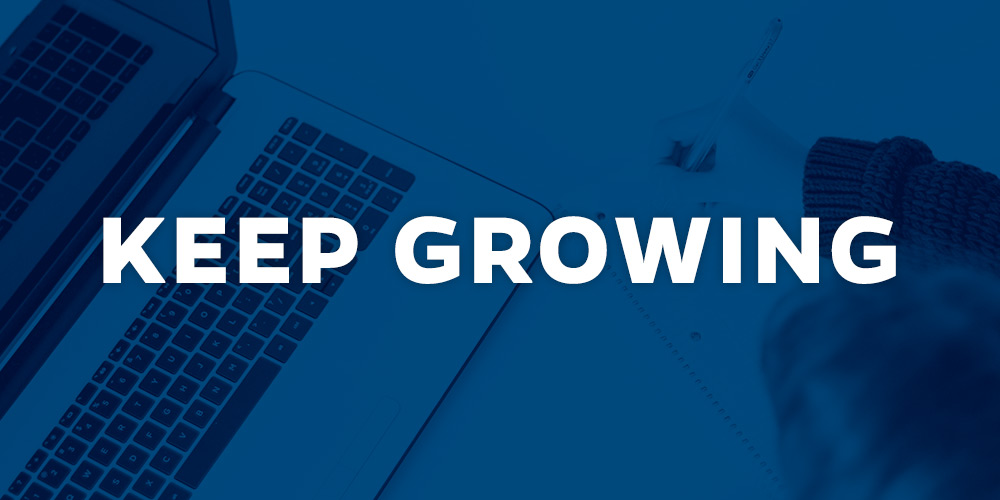 In our fast-paced world, people are engaging in training in new and different ways. UF HR Training & Organizational Development designed the Keep Growing series to meet today's training needs in new ways. These online resources were crafted based on identified key skills that faculty and staff can develop as individuals and as leaders. These skills are critical for navigating the present and for flourishing over the long-term. The training materials we developed are designed to be taken at your own pace. Below, you will find the Keep Growing content broken down into three categories:
---
Keep Growing Book Club
Register now for the series in myTraining.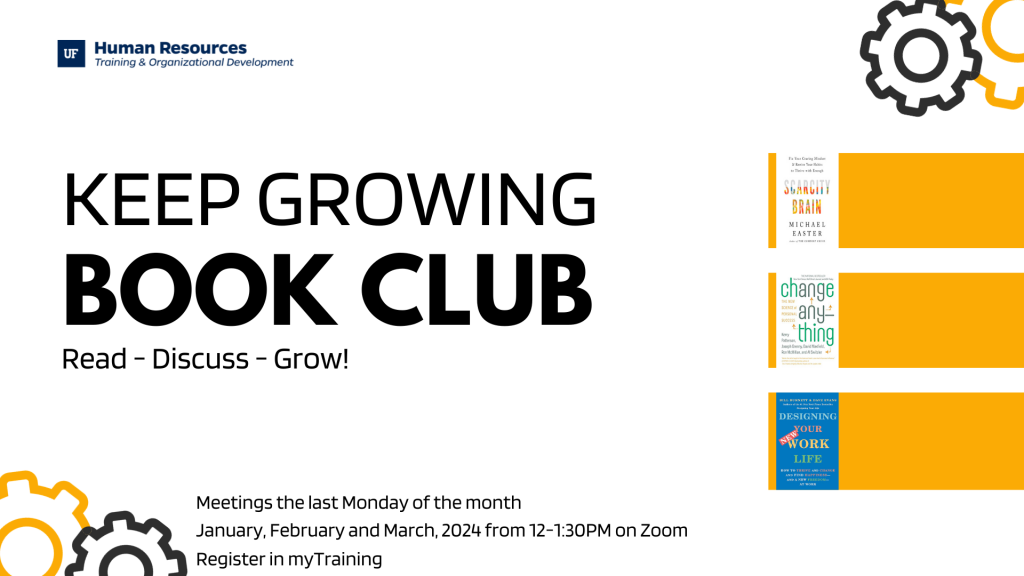 UF Faculty and Staff are invited to embark on a transformative journey with our monthly Keep Growing Book Club. Together, the book club will explore a range of captivating self-improvement topics including how to understand our motivations, how to make changes in our lives, and how to improve our work.
The Keep Growing Book Club will meet the last Monday of the Month in January, February and March 2024 from 12-1:30PM in Zoom.
The three books selected for the book club are linked to courses that are offered in our Thrive@UF series and are designed to enhance and enrich that learning. However,the book club is designed to be engaging whether or not you've not taken the Thrive@UF program. Delve into these carefully chosen books, each one thoughtfully building upon the other, to create a holistic learning experience that will empower you in your professional and personal endeavors.
Through a combination of insightful research, author expertise, and valuable firsthand accounts, the books in our lineup promise to take you on an enlightening journey of self-discovery and growth. "Scarcity Brain" will help you identify and transform limiting behavioral patterns, while "Change Anything" provides a comprehensive framework for embracing positive change. Finally, "Designing Your New Work Life" offers practical, actionable steps to initiate the positive transformations you aspire to achieve in your professional sphere.
Don't miss this extraordinary opportunity to join like-minded individuals in a collaborative community of personal development and collective progress at UF. Sign up now to expand your horizons and empower yourself for a brighter, more fulfilling future.
Timeline:
January 29 – Discuss "Scarcity Brain: Fix Your Craving Mindset and Rewire Your Habits to Thrive with Enough" by Michael Easter
February 26 – Discuss "Change Anything: The New Science of Personal Success" by Kerry Patterson, Joseph Grenny, David Maxfield, Ron McMillan, and Al Switzler
March 25 – Discuss "Designing Your New Work Life: How to Thrive and Change and Find Happiness–and a New Freedom–at Work" by Bill Burnett & Dave Evans
Please note: You will need to provide your own copy of the books in the book club.
---
Keep Growing at UF Podcast
The Keep Growing at UF Podcast features trainings produced by UF T&OD, presented in an audio format so that you can listen and learn at your convenience. New episodes release every other Thursday.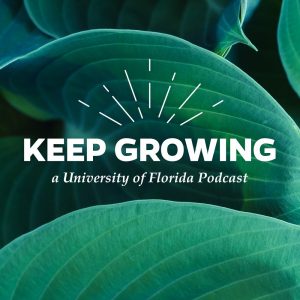 Listen & Subscribe at:
Apple Podcasts
Spotify
Stitcher
Pocket Casts
Google Podcasts
RSS Feed
---
Keep Growing Training Content
Training & Organizational Development has developed many new training materials to help you learn in new ways, at your convenience. Here is a list of materials created as part of the Keep Growing initiative. Please note: Many of our recorded webinars can also be found on our YouTube channel.
Artificial Intelligence
Harnessing AI Tools In The Workplace online activity
Available as an on-demand online course through myTraining
Artificial Intelligence In The Workplace Webinar
Instructors: Karina Kolb & Brandon Telg
Catch The Wave: An Introduction to AI for Teaching
Webinar
Instructors: Karina Kolb, Chris Sharp, Leslie Mojeiko, and Dr. David Reed
Remote & Hybrid Work
Cultivate Work Culture With Microsoft Teams
Explore ways to build a positive work culture in Microsoft Teams through communication, connection, community, and celebration of your team.
Instructor: Kandice Lloyd-Weech
Managing Remote Work Series
Session #1: Exploring Options: "Is remote work right for anyone on my team?"
Session #2: Best Practices for Leading a Hybrid Team
Session #3: Building a Remote Work Culture
Instructor: Rebecca Younglove
Workforce changes such as remote and hybrid work have many managers and leaders considering how to provide flexibility in the workplace in ways that are satisfying for employees, productive for the team, and positive for the culture.
4 Pillars of Remote Facilitation
Accountability for the Virtual Workplace
Instructor: Tricia Bachus
This webinar is for managers who want to know how to achieve a culture of accountability whether in a virtual or co-located workforce. Having a team who can work from home and still stay productive, optimistic, and deliver on expectations is what will drive success.
Being Together Apart
Instructor: Dianne Matheis
Being together apart is about teams and shared stories. Some people will thrive, while others will fall silent. Practical tips and guidance for newly remote teams in building trust, membership and belonging, and caring for each other.
Collaborating in Microsoft Teams
Instructor: Gwynn Cadwallader
Collaboration happens everywhere, from in-person meetings to catch-ups in the hall. Since these opportunities—both formal and informal—have move online, Microsoft Teams can bring a much-needed structure to our remote-work experience. In this session, we will work directly in Teams to share tips, strategies, and best practices.
Effective Virtual Meetings
Instructor: Gwynn Cadwallader & Dianne Mathies
Communicating virtually (whether presenting, participating in a meeting, leading a class or facilitating a conversation) brings with it a unique set of challenges. A strong virtual presence allows you to engage and build credibility with your audience. In this webinar we'll share keys to connect with people with authenticity so you can achieve your purpose to inspire, influence and include across the virtual divide.
Engaging with a Virtual Audience
Instructor: Kara Wight & Irma Alvarez
Communicating virtually (whether presenting, participating in a meeting, leading a class or facilitating a conversation) brings with it a unique set of challenges. A strong virtual presence allows you to engage and build credibility with your audience. In this webinar we'll share keys to connect with people with authenticity so you can achieve your purpose to inspire, influence and include across the virtual divide.
Leading a Hybrid Team
Instructors: Dianne Mathies & Becky Younglove
Are you leading a hybrid team comprised of both remote and in-office positions? This webinar will provide supervisors with some best practices and strategies to increase team effectiveness when not everyone is "in the office".
Making Remote Meetings Work
Providing Effective Feedback for Remote Employees
Instructor: Courtney Moon
Providing timely and meaningful feedback to your direct reports might already feel like a challenging task. And, you now must do it during a time of increased stress and physical distance. In fact, ongoing feedback is even more crucial then ever. Attend this webinar to identify tips and strategies for how to effectively provide feedback while working remotely.
Tips for Teams: Maintaining a Productive and Collaborative Remote Work Environment
Instructor: Sarah Hanson
During these uncertain times, it's more important than ever for teams to stay connected and remain productive! During this session, we will explore tips to improve team communication and collaboration while working remotely, including advice from high performing teams at UF.
Navigating Change & Challenging Situations 
Is Stress Your Friend?
Instructor: Courtney Moon and Yusof Al-Wadei
Is Stress Your Friend? Strange right? Stress is an unfortunate part of life that we all experience to varying degrees. While it may seem strange at first, having a strategic approach to managing stress can result in a more productive and healthier you.
Leadership and Judgment in Uncertain Times
Instructor: Irma Alvarez
Leaders who practice good judgment during times of uncertainty provide anchoring when it is most needed and appreciated by those who look up to them for direction. Modeling good judgment reassures and engages the team to remain aligned and focused on results despite an environment of doubt and ambiguity.
Leading with Emotional Intelligence During Times of Uncertainty and Change Webinar
Instructor: Rebecca Younglove
One thing is certain- there is little constant in our lives right now. These challenging times can also be a great opportunity to build stronger relationships and teams. In this webinar, managers/leaders will learn ways to leverage the components of emotional intelligence to lead effectively during these ever-changing times.
Manage Change Before it Manages You
Instructor: Courtney Moon & Becky Younglove
Change happens. It's a real, concrete part of life that we sometimes wish would just go away, or at least slow down. Now more than ever, we are dealing with rapid fire change and it is having an impact on our lives both professionally and personally. In this webinar, we'll review the Change Cycle, a helpful model that explains the sequential steps to change and discuss ways to manage change in helpful and productive ways.
Stop Stressing Me Out!
Instructor: Ronda Mitchell
Things are stressful right now for all of us. In this session we will learn what each behavioral style considers stressful, the signals we each give when under stress, and flexibility tips to help each other lower their stress levels for improved collaboration and productivity during these trying times and beyond.
Talking About Grief in the Workplace
Instructor: Taylor Williams
Grief is a very normal and common emotion, but it is largely misunderstood. If we normalize grief and grieving, it is possible to have more empathic and meaningful conversations about various forms of loss in the workplace. After the global experience of Covid-19, it's a safe assumption that everyone has experienced some form of grief: the loss of a loved one or their own health, a loss of identity, time, certainty, safety, etc. Grief is exceptionally common right now, but most people are unaware, or unable to identify the emotion.
Values are More Important than Ever: Good Judgment in Difficult Times
Shaping Your Life & Career 
Applying Performance Measures to Your Work
Getting Organized PDF
Goal Setting PDF
Track What You've Done PDF
Instructor: Brandon Telg & Courtney Moon
An important element of Productivity & Performance is one's ability to apply performance measures to their everyday work, not just for an annual review. This webinar will help you apply an organizational structure to your work, identify and write your goals using backwards design, and ultimately track and maintain your performance records over time.
Building Your Own Long-Term Success Story
Instructor: Kara Wight and Brandon Telg
We live in a time where people are achieving early success at a rapid pace and their stories are amplified. In a short amount of time these stories have gone from the remarkable exception, to the new expectation of success. While reaching a certain level of success at a young age can set you up for long-term success, there are some inherent dangers that come with taking on too much too soon. In this webinar, we will debunk this myth that you must have your dream job and be building your empire by the time you're in your 30's. Then we'll take a look at some examples of success that were a slower burn, built up over time. Finally, we will dig into some tools to help you design your own long-term success story.
Building Your Resilience Muscles
Instructor: Ronda Mitchell and Irma Alvarez
Do you feel like you are just managing to get through these challenging times? It may be your resilience muscles are weak. In this webinar we'll share with you a roadmap with concepts to build your resilience, regain your balance and move forward with optimism and energy for sustaining and, even, increasing work performance.
Cultivating An Abundance Mindset
Instructor: Brandon Telg
How can one cultivate a mindset of positivity and compassion when the world is changing so rapidly? Attend this webinar to learn about the difference between a Scarcity Mindset and an Abundance Mindset, as well as what it takes to move from the former into the latter.
Embracing the Growth Mindset in Times of Turbulence
Instructor: Kara Wight
What does the growth mindset look like when our world is flipped upside down? Embracing the growth mindset will allow us to learn and grow during challenging times. Join us for this webinar to look at how we can do this while we're adjusting to our new work circumstances.
Identity Capital
Story Development