Upcoming interactive webinars designed to support leaders
How Managers Use Norms and Crucial Conversations to Promote a Safe Workplace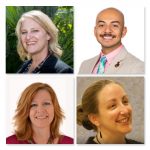 Thursday, August 20, 11:00-12:30
Behaviors, not policies, are the key to keeping our workplace safe. Join this interactive webinar to learn strategies for promoting the right behaviors and how to hold tough conversations to make them stick. Through scenarios and Q&A, we'll discuss the challenges and answer your questions.
Leaders in Action: A Panel Discussion for Successfully Navigating a Safe Return to the Workplace
Tuesday, August 25, 11:00-12:30
Join this unique opportunity to listen and ask questions of a leadership panel featuring Melissa Curry, Gerry Altamirano, Kim Blackburn and Alicia Turner (pictured above) as they share their lessons learned and successes for managing a safe return to the workplace. More information about our panel of speakers may be found on the Keep Growing section of our website.