Nearly 150 TEAMS employees awarded Higher Education Opportunity benefit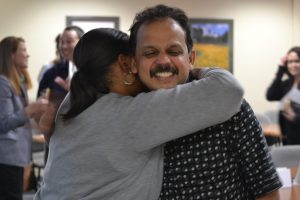 At the recommendation of Provost Joseph Glover, with enthusiastic support from President Kent Fuchs and UF Human Resources, all 149 eligible applicants received the 2018 Higher Education Opportunity (HEO) scholarship at the annual ceremony held in March.
The university's HEO scholarship provides children of full-time TEAMS employees with the opportunity of tuition assistance for an undergraduate education at UF—or at any public community or state college in Florida if the student is not admitted to UF.
Since 2003, 50 scholarship recipients have been drawn from a pool of eligible applicants each year. The only other time more than 50 HEO applicants received the scholarship was during the initial drawing when 51 eligible applicants were all awarded scholarships.
As Vice President for Human Resources Jodi Gentry announced the expansion of this year's program, members of the crowd—who expected to sit through a nail-biting drawing to wait to hear if their child would receive the benefit—audibly gasped and cheered, many with tears in their eyes.
"One of the TEAMS employees who received this year's benefit wrote to me after the event and told me how valued she felt as a TEAMS employee," said Gentry. "That is exactly how we wanted her to feel. This benefit is designed to help show our appreciation for the work of our TEAMS employees as members of our university community."
Visit the HEO section of the HR website for more information about the Higher Education Opportunity or contact Kenya Williams, UF Training and Organizational Development, via email or at (352) 273-1761.