Discover and Learn UF GO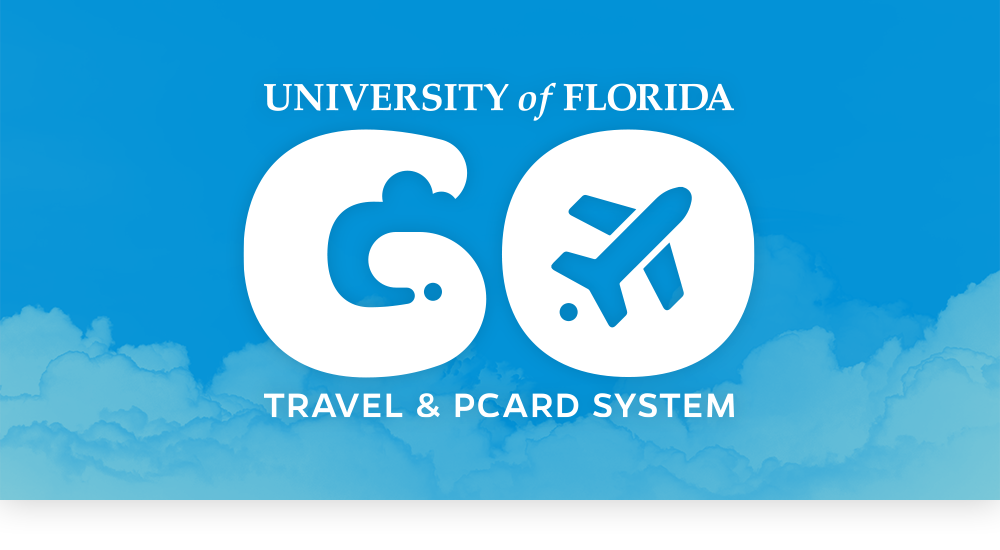 UF GO is a user-friendly, web-based travel and PCard cloud platform that integrates the travel request (authorization), booking, expense report, reimbursement and PCard reconciliation processes. This platform also leverages mobile tools for on-the-go trip management.
UF Procurement Services
352.392.1331 | procurement@ufl.edu | website
This information is designed for use by departmental staff and administrators who purchase equipment, materials and services used for university business, as well as faculty and staff who will reconcile UF credit card purchases in myUFL.
Use myUF Marketplace for all purchasing requisitions and invoicing. You may research requisitions in myUF Marketplace and research purchase orders in both systems. The UF credit card is known as the PCard. Review these Frequently Asked Questions for answers to specific questions.
---
Take PRO305: Purchasing 101 – an introduction and overview of policies, regulations and statutes that govern purchasing at UF.  Recommended for requisition initiators and financial approvers who work with purchase orders
Take PST073: Intro to Procurement in myUF Marketplace
Please note that this online class is required for those employees designated Requestors, however, it is recommended for Financial Approvers and Shoppers. Learn how to search for items in the Marketplace's 35 UF negotiated-price catalogs, how to create a cart for goods and services with other suppliers; how to add Ship To, Bill To, ChartFields and other required fields, how to assign a cart to a requestor, and submit an order. Learn about requisition and purchase order approval workflow. Also included is how to do change orders to increase, decrease or make changes to your purchase order and how to resend it to the supplier. The class also shows how to cancel purchase order lines and close purchase orders. PST073 walks you through instruction guides and resources available to refer to when you are in the moment at your desk completing a purchase in myUF Marketplace on behalf of your department.
Take PST083: myUF Marketplace to gain access to the security roles UF_N_MKT_FINANCIAL_APPROVER & UF_N_MKT_REQUESTOR.
Take ADV006: Fund Administrator Training to gain access to the security role UF_N_MKT_REQUESTOR.
PRO352: Procurement 102 Service Contracts – an introduction to working with contracts for services: what is a statement of work, who signs an agreement, who reviews for legal versus business terms.  Recommended for staff and faculty who purchase services (not C&G subcontracts)
For DSOs Use Only

 

Web Simulations and Instruction Guides

All myUF Marketplace instruction guides on shopping, requisitions, change orders and purchase orders have been moved to the myUF Marketplace Toolkit.

PCards

Reconciling and/or Approving PCard Transactions PDF

Adding ChartFields to Multiple Transactions (Using the Distribution Template) PDF

How to Personalize the Reconcile Statement Page PDF

Deleting Personalizations on PCard Reconciliation Pages PDF

Attaching Documentation to PCard Transactions Via OnBase PDF

Retrieving PCard Documentation Via OnBase PDF

Finding PCard TXN Numbers PDF

Training

To register for online courses in myTraining, navigate to mytraining.hr.ufl.edu. From the myTraining Dashboard, you can search for courses using the Activity Search field in the upper left hand corner. Just type the course name, course ID or a keyword and then click Search.

After you've registered for training, your current enrollments display in the Training list found on the Dashboard page. To begin an online course, click the green Start button.

You can also access myTraining from myUFL using the following navigation:
Main Menu > My Self Service > Training and Development > myTraining

---

Training Specifically for PCards

If you are applying for a PCard for Commodities, you must complete the following training courses:

PST975 What Every PCard Holder Needs to Know
PST077 PCard for Commodities

If you are applying for a PCard for Travel and Commodities, you must complete the following training courses:

PST975 What Every PCard Holder Needs to Know
PST076 PCard for Travel
PST077 PCard for Commodities

If you are a PCard Verifier/Approver/Reconciler, you must take the following training courses:

PST975 What Every PCard Holder Needs to Know
PST076 PCard for Travel
PST077 PCard for Commodities
PST978 PCard for Verifiers/Approvers

Current PCard holders and PCard verifiers/approvers/reconcilers must take PCard refresher training every two years from the date training was initially completed.

For current PCard holders, there are two options that will fulfill the two-year training requirement:
Option 1

PST974 PCard Refresher for Cardholders

Option 2

PST975 What Every PCard Holder Needs to Know AND
PST076 PCard for Travel AND
PST077 PCard for Commodities

For current PCard verifiers/approvers/reconcilers, there are two options that will fulfill the two-year training requirement:
Option 1

PST978 PCard for Verifiers/Approvers AND
PST974 PCard Refresher for Cardholders

Option 2

PST978 PCard for Verifiers/Approvers AND
PST975 What Every PCard Holder Needs to Know AND
PST076 PCard for Travel AND
PST077 PCard for Commodities

Security Roles

Lists and descriptions of all UF security roles may be found on the Identity & Access Management website.

myUF Marketplace

Shopper
UF_N_MKT_Shopper
UF_N_MKT_Shopper_Req (non-permanent staff and faculty)

Requestor
UF_N_MKT_Requestor
Approver
UF_N_MKT_Financial Approver

myUFL

UF_PO_RECEIVER – Review Purchase Orders in myUFL

PCard

UF_PO_PCARD_HOLDER – This is an end user role granting access to the Pcard module to:
* View Pcard statements

UF_PO_PCARD_RECONCILER – This is an end user role granting access to the Pcard module to:
* Reconcile Pcard statement
* Update speedcharts
* Load procurement card activity reports.
* Reconcile activity and statements
* Identify processing errors
* Assist in resolution of differences between provider and book balances
* Monitor employee reimbursement. Set default accounting codes
* Apply UF spending limitations/restriction
* Review ChartField combination charged
* Override budget checking

UF_PO_PCARD_APPROVER – This is an end user role granting access to the Pcard module to:
* Reconcile Pcard statements
* Update speedcharts
* Confirm receipt of goods/services that promote University business.
* Approve payment
* Review and approve transactions to ensure appropriateness of the purchasing activity and timely processing of charges and/or credits.

 Other Resources

For system status information, please review the Alert Notices webpage
PCard Training for Reconcilers and Approvers:
PST975 What Every PCard Holder Needs to Know
PST076 PCard For Travel
PST077 PCard for Commodities
PST978 PCard for Approvers

 Contact Information

UF Procurement website | myUF Marketplace website
Phone (352) 392-1331
Fax (352) 392-8837
Email: procurement@ufl.edu
Address: 102 Elmore Hall