Discover and Learn UF GO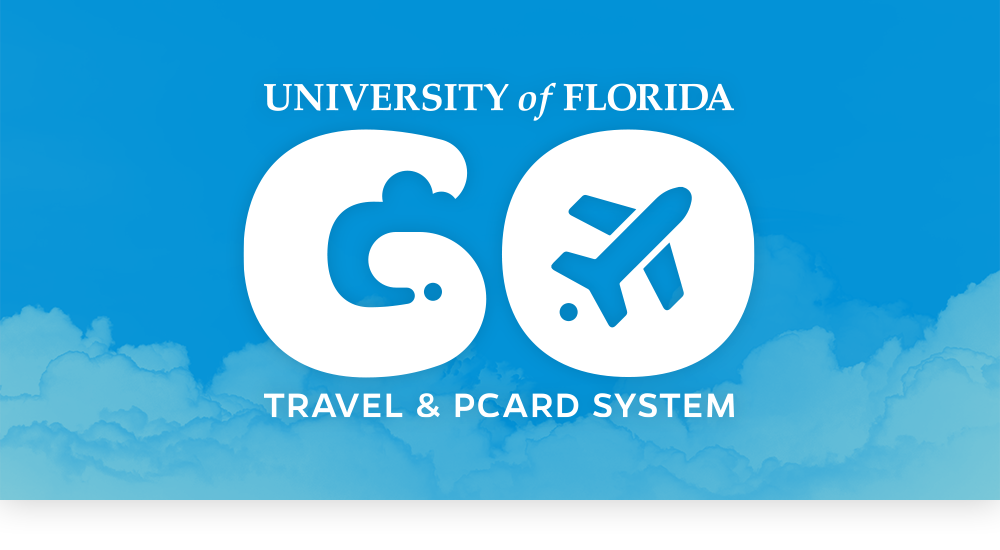 UF GO is a user-friendly, web-based travel and PCard cloud platform that integrates the travel request (authorization), booking, expense report, reimbursement and PCard reconciliation processes. This platform also leverages mobile tools for on-the-go trip management.
For DSOs Use Only

Travel Office

352.392.1241 | website

This information is designed for use by:

Departmental staff who will enter travel and/or expense on behalf of others
Faculty or staff who travel frequently and will enter their own travel and/or expense
Administrators who approve travel for their employees

Use these Frequently Asked Questions to help assist as you begin using the Travel and Expense module in myUFL.

You may notice the navigation in myUFL is different than what is shown in these training resources.  Rest assured, these changes are primarily look and feel differences. All policies and procedures discussed in these materials are accurate and up to date. Training materials will be updated to reflect the new look and menu of myUFL.

Web Simulations and Instruction Guides

User Preferences

Delegate Entry Authority Simulation | PDF

Creating, editing and retrieving a Travel Template Simulation | PDF

Travel Authorization

Cash Advance

Expense Report

Approvers

How to Approve Transactions PDF

Approve a Travel Authorization Simulation | PDF

Approve an Expense Report Simulation | PDF

Approve a Cash Advance Simulation | PDF

Assign a Temporary Approver PDF

View Receipts Prior to Approving the Expense Report PDF

 

To register for online courses in myTraining, navigate to mytraining.hr.ufl.edu. From the myTraining Dashboard, you can search for courses using the Activity Search field in the upper left hand corner. Just type the course name, course ID or a keyword and then click Search.

After you've registered for training, your current enrollments display in the Training list found on the Dashboard page. To begin an online course, click the green Start button.

You can also access myTraining from myUFL using the following navigation:
Main Menu > My Self Service > Training and Development > myTraining

---

PST930 Travel and Expense
Designed for departmental representatives who will assist "travelers" in their areas, this hands-on certification workshop will introduce travel and expense processes in myUFL. Along with a brief review of related policies and procedures, participants will:

Review the myUFL travel process
Submit a travel authorization
Request a cash advance
Complete an expense report

PST931 Travel and Expense – Approver
Review how to approve travel & expense transactions in myUFL
PRO306 UF Travel Directives Workshop
Business travel at the University of Florida can be very complex due to the overwhelming amount of rules and guidelines that must be followed. This workshop is designed for departmental representatives that perform travel-related duties. This is not a "how to" workshop. This workshop is designed to provide an in-depth review of travel-related rules/guidelines and answer the question…. "What is allowed to be claimed in accordance with the UF Travel Directives?"

UF_FI_UNIVERSAL INQUIRY
This role will allow you to view financial transactions in myUFL
UF_EX_EMPLOYEE
This is an end user role granting access to the Travel and Expenses module to: * * Initiate travel – manage expense reports, manage travel authorization, manage cash advance, manage budget exceptions, and self service travel and expenses (for yourself or others).  Required training: PST930 Travel and Expense
UF_EX_MANAGER
End user role granting access to Travel and Expenses Module:
* Approve cash advances
* Approve, modify, review and print expense reports and errors
* Approve, modify, review and print travel authorizations
* Review employee expense and payment history
* Review employee profile

Required training: PST931 Travel &  Expense Approver

For system status information, please review the Alert Notices webpage.

For assistance, contact the Travel Office (392-1241).

If you experience application problems with the Travel and Expense system in myUFL, please contact the UF Help Desk (392-HELP) for assistance. When contacting the Help Desk about Travel related questions, please include your UFID or GatorLink username, browser and operating system information, any error messages you received and detailed information about what you experienced, or what you expected to experience. The more detail you provide, the better the UF Help Desk can assist you.