Team/Individual Behaviors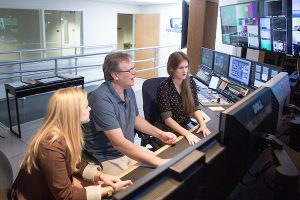 Team members participate in regular meetings to review progress towards goals, hold each other accountable, share struggles, and share successes related to achieving goals and objectives
Team members buy into goals and understand how their work fits into the vision, mission, and goals for the department
Team members actively contribute to establishing shared goals which are clear, simple, and measurable
Team members establish a realistic and attainable purpose
Team members are committed to achieving a quality outcome
Team Leader Behaviors
Team leader uses a system for involving the team in setting goals, communicating vision, and establishing a strategy for the team so that each member can see how their work contributes to the big picture
Team leader holds regular check-ins with the team to assist with roadblocks, provide feedback, and communicate or clarify goals and vision
Team leader establishes priorities for the team to ensure the most important tasks are completed in a timely manner and the team is not derailed
---
Courses
SCS045:  Thinking Strategically
For Team Leaders
"Thinking Strategically: Using Vision, Purpose and Goals to Get Results" is a workshop for managers who want to learn ways to think more strategically in order to achieve team goals. During this session, participants will learn about the importance of having and articulating a clear vision and purpose for the team. Additionally, participants will learn a goal setting strategy that can help ensure the team identifies and works on the right goals that align with team and organizational vision and purpose.
---
SCS100:  What to do First When Everything is Important
For Team Members/Team Leaders
Attend this session and learn the basic ways to use your time wisely, the difference between importance and urgency and the benefits of delegation.
---
GET050: Achieving Results
For Team Members/Team Leaders
This session focuses on a key workplace skill: identifying and achieving the desired results of your work. In this session, you will learn to:
Identify clearly what you want and define your priorities
Explore methods for persisting in the face of challenges
Create goals that are clear and compelling
Develop a strategy that leads to accomplishment of your goals
---
SCS080: Making Meetings Work
For Team Members/Team Leaders
How many meetings have you attended or conducted that just seemed like wasted time? Well, no more! Attend this workshop to learn techniques for planning and facilitating effective meetings. This workshop counts as an elective in the Supervisory Challenge certificate program.
---
SCS075: Leading a Team
For Team Leaders
Effective managers create and cultivate collaboration and teamwork in order for their unit to reach its full potential. In this session, we will discuss tactics managers can use to build a collaborative team. Specifically, we will look at team development from a manager perspective and how to facilitate decisions that everyone can commit to by building consensus.
---
TRV042: Unleashing Team Creativity
For Team Members/Team Leaders
What are the secrets of the world's most creative teams? What are the common barriers that prevent groups from functioning at their creative best? How can you be the type of team member who contributes to a positive environment that promotes great thinking, breakthroughs, and results? This lively, interactive, and experiential workshop focuses on four key principles to unlock your team's creative potential. By focusing on the wildly important, using science-based insights to maximize synergy, tapping into the power of diversity and inclusion, and leveraging constructive conflict, you can do your part to build a creative culture within your organization and elevate your team's ideas and impact.
---
Resources